Super Soaker XP 110
Benchmark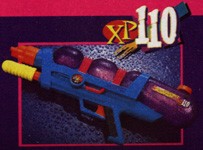 All Data on this page has been physically verified with an XP 110

The Benchmark
| | |
| --- | --- |
| Tank Capacity | 1.2 Liters - 41oz |
| | |
| --- | --- |
| Pressure Tank Capacity | 400 ml - 13.6 oz |
| | |
| --- | --- |
| 1 Second Blast at Maximum Force | 60ml - 2oz |
| | |
| --- | --- |
| Shot Length at above 70% power | 6 sec |
| | |
| --- | --- |
| Pump Shaft Volume | 35ml - 1.2oz |
| | |
| --- | --- |
| Shots per full tank | 4.2 Shots |
Performance Overview.
A good gun, one thats sure to perform well as a main weapon, and as a great sidearm for CPS Class engagements. The Gun I compare this one to the most is the XP 95. It's short shot time may not be good for an XP of it's type, but it's good enough to get you from point A to point B in a skirmish, as well as defend you as a sidearm. And not only that, XP110 offers more shot's per tank. When it comes to the Output, 2oz per second is good for a gun, but is certainly a drop off from the the first XPs, and even more of a drop off for the XPs, it's the first large rifle without Riot Blast... (Although it looks like the nozzle could be removed, I will not attempt this on the tested model due to the fact that this is a borrowed gun.) One important thing though, don't get to close to this gun in battle, it stings.
Structural Overview.
A new thing in the third line of XPs are the presence of reservior caps instead of removable bottles. This is good because it's quicker to fill, and has no way to get bunged up like the screw or snap on tanks before it. This gun is of good size, light very good to manuver with... It is the same length as the one step up CPS1000, but about 2/3rds as wide.
Basic Overview
A good gun, I won't put it down, however I personally wouldn't buy it. (mainly because I already have my XP95) However, if you need a Sidearm for your Heavy CPS, and can put a strap on anything, I recommend this gun. It's got the output and capacity that everyone needs and no one should go without. However, as a large rifle, I don't think anything will ever beat the great XP 150...
But it's close!



Special Thanks to Michelle Kaye for letting me use her XP 110 for the test.